Motorcycle News
See
ALL
News
, archives, and categories
---
ZERO MOTORCYCLES WINS eSUPERSTOCK PRODUCTION AWARD
ZERO MOTORCYCLES WINS eSUPERSTOCK PRODUCTION AWARD AT 2013 LAGUNA SECA MOTOGP
-- Production-Based Zero Motorcycles Take Second and Third Out of All Electric Motorcycles --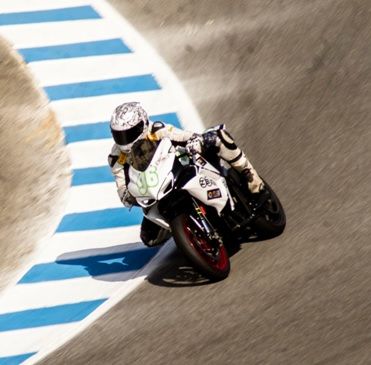 Zero Motorcycles
, the global leader in the
electric motorcycle
industry, had another record breaking day of racing this past Sunday, July 21, 2013, at the 2013 FIM eRoadRacing World Cup at Laguna Seca MotoGP. Following very impressive performances at last month's Pikes Peak International Hill Climb, Zero Motorcycles continues to showcase the high performance results possible with their 2013 production-based line up. With four motorcycles qualifying to compete at this year's event, Zero took both second and third places on the podium. Kenyon Kluge, Director of Electrical Engineering for Zero Motorcycles, won not only the eSuperStock Production Award, but also took second overall amongst all electric motorcycles competing and recorded the fastest times ever for a production-based Zero Motorcycle (
1:48
:706).
"This weekend was incredible and the Zero team really put an incredible bike under me to get the job done. My qualifying time was nearly 12 seconds faster than our best time from 2012 and our factory improvements to the 2013 model line really helped to make up the difference," said Kenyon Kluge, Director of Electrical Engineering for Zero Motorcycles. "All of the riders on Zeros this weekend showed how impressive our production-based bikes are and big congratulations go out to everyone at Zero, the individual racers and most importantly of all, the support crews."
Finishing third overall behind Kluge was Jeremiah Johnson, sponsored by BE-EV.com, who also scored his impressive race result on a production-based Zero Motorcycle. In addition to Kluge's and Johnson's podium results, both Brandon Miller, well-known as the "Electric Cowboy," and Ted Rich, sponsored by SBKtraining.com, also competed on minimally customized 2013 Zero S ZF11.4 models. All Zero Motorcycles entered in the event used 2013 production-based technology with racing modifications applied.
"This is simply amazing," said Scot Harden, Vice President of Global Marketing for Zero Motorcycles. "We're still riding the high from our historic showing at Pikes Peak and now we've done it again. Kenyon and the entire Zero team should be very proud of the results they achieved. This only confirms how much of the success we are currently enjoying, both on and off the track, is due to the passion and commitment of our engineering and manufacturing teams who supported the Laguna Seca MotoGP. Congratulations to everyone involved."
The eRoadRacing World Cup is a successor series to both the TTXGP and e-Power electric motorcycle series. It replaces both series, and is sanctioned by the FIM. Held at Mazda Raceway Laguna Seca, the racetrack is 2.238 miles in length with a 180 feet elevation change. It has eleven turns, including the famous "Corkscrew." Zero's recent successes at both the 2013 FIM eRoadRacing World Cup at Laguna Seca MotoGP and Pikes Peak International Hill Climb further validate the impressive performances specifications available from the 2013 Zero Motorcycles model line-up. With 68 ft.-lbs. of torque, 54 hp, top speeds of 95 mph and up to 137 miles on a single charge, the Zero S is available to consumers through Zero's North American dealer network and global distributors. For more information on Zero Motorcycles visit
www.zeromotorcycles.com
.